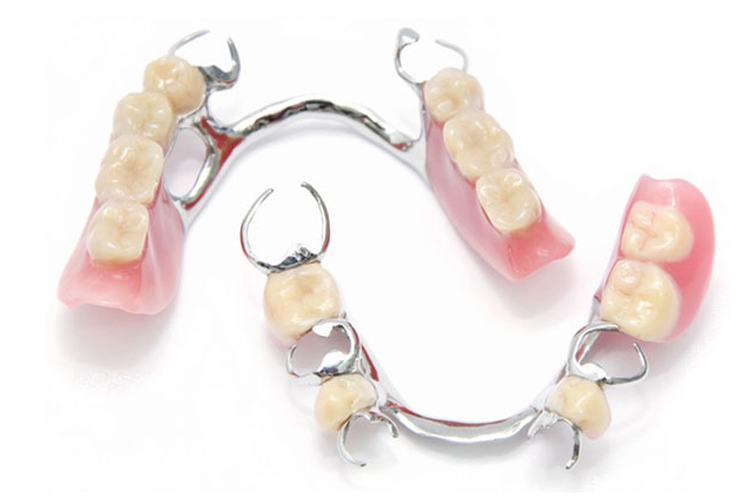 Many people come to our dental practice in Sutton and ask me about metal dentures vs plastic dentures, so we thought we would write an article to explain the main differences! If you have no teeth left, then plastic dentures are generally the best, however, if you have some remaining teeth, it's definitely worth considering a metal denture, as they have so many advantages.
If you have remaining teeth present, we can use these teeth to help keep the denture in place, improve stability, and improve support. We can place clasps, which are the metal wires that clip around your teeth, and they help to keep the denture in as well as help stop it from rotating.
You can actually use clasps on plastic dentures, but they don't work nearly as well as the proper cobalt chrome ones that are placed in metal dentures. This is due to many reasons, the main one being the type of metal.
In metal dentures, the clasps are made from cobalt chrome, and are cast as part of the actual metal framework. The properties of cobalt chrome are the perfect balance between deformation, stiffness, and elasticity, meaning that it will perform well for many years.
With the plastic dentures, we can only really 'glue in' stainless steel clasps, which are not very stiff and tend to deform very quickly. As they are not very stiff, it means that the denture doesn't stay in well.

Metal dentures also have rest seats placed in them for better support.
Dentures can either be tooth supported (best), gum supported (worst), or a tooth and gum supported (second best).
Support is the element that stops the denture from sinking into the mouth and moving around when you bite down. All metal dentures will have some element of tooth support and the more support you have, the better.
Plastic dentures have the worst kind of support (gum supported) and when you bite down, all the pressure will go onto your denture and then onto your gums.
Your gums are not very good at withstanding this pressure, as they are much softer than your teeth and plastic dentures are often referred to as 'gum strippers' by dentists for this reason.
Plastic dentures can cause a great deal of damage to the gums surrounding your teeth and that's why teeth with well-made and well-engineered metal dentures last a lot longer.
Think of the difference between building a house on concrete as oppose to sand!
သတ္တု သွားအံကပ်လုပ်ခြင်း (metallic denture) - သုံးသိန်း မှ ဆယ်သိန်း (3 lakh - 10 lakh) - သွားတချောင်းတိုးတိုင်း ငါးသောင်းမှ ရှစ်သောင်း ရွေးချယ်သော သွားအမျိုးအစားပေါ် မူတည်၍ ဈေးနှုန်း ပြောင်းသွားခြင်း ဖြစ်သည်။