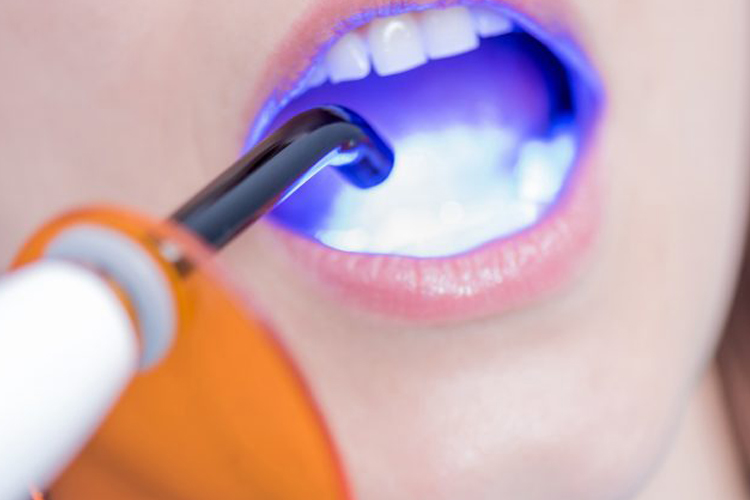 A dental curing light is a piece of dental equipment that is used for polymerization of light cure resin based composites. It can be used on several different dental materials that are curable by light. The light used falls under the visible blue light spectrum. This light is delivered over a range of wavelengths and varies for each type of device. There are four basic types of dental curing light sources: tungsten halogen, light-emitting diodes (LED), plasma arcs, and lasers. The two most common are halogen and LEDs.
The halogen and LED curing light are operated similarly. In order to turn on the blue light, both of these lights require the operator to press a button or a trigger. For the halogen curing lights, there is a trigger that is pressed. The older models require the operator to hold down the trigger for the light to emit unlike newer models that only require that the trigger be pressed once. For the LED lights, a button is placed on the device. For both the newer models of the halogen lights and the LED lights, after the trigger or button is pressed, the light will remain on until the timer expires. After the light is on, it is placed directly over the tooth that has the material in it until it is cured.
The development of the curing light greatly changed dentistry. Prior to the development of the dental curing light, different materials had to be used in order to have a resin based composite material placed in a tooth. The material used prior to this development was a self-curing resin material. These materials, an A material and a B material, were mixed separately before application. The A material was the base and the B material was the catalyst. This resin material was mixed first and then placed in the tooth. It is then self-cured/hardened fully after 30–60 seconds. This presented several issues to the dentist. One issue was that the dentist did not have control over how quickly the material cured—once mixed the curing process started. This resulted in the dentist having to quickly and properly place the material in the tooth. If the material was not properly placed, then the material had to be excavated and the process started over again.
The development of this new technology gave way to new light activated resin materials. These new materials are very different from the previous ones. These materials do not need to be mixed and can be dispensed directly into the site. This new malleable resin material can only be fully cured/hardened with a dental curing light. This presents new advantages for dentists: the time constraint is now lifted and the dentist can now assure that the material is properly placed.
လေဆာရောင်ခြည်ဖြင့် သွားဖာခြင်း (Light Cure Filling) လေးသောင်းခွဲ မှ ခြောက်သောင်း (45000 mmk - 60000 mmk)