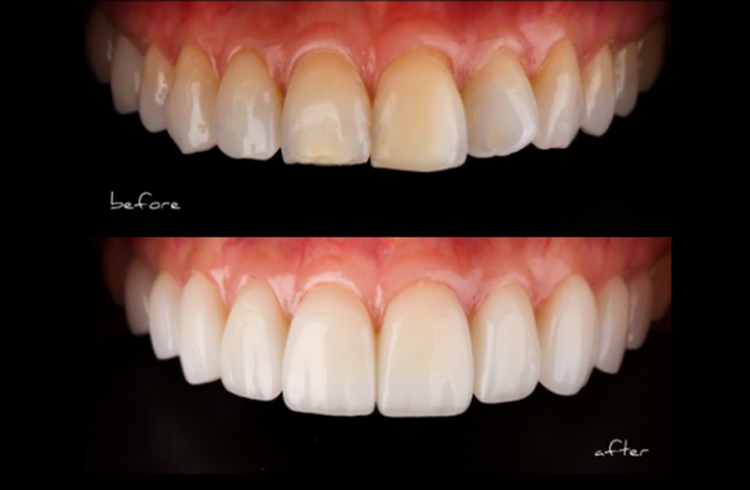 Aesthetic Veneer (sometimes called porcelain veneers or dental porcelain laminates) are wafer-thin, custom-made shells of tooth-colored materials designed to cover the front surface of teeth to improve your appearance. These shells are bonded to the front of the teeth changing their color, shape, size, or length.
Aesthetic Veneer, also known as Porcelain Veneers, are the ultimate dental restoration solution for discolored, chipped/broken, unshapely, fractured, or misaligned teeth. They allow the alteration of a tooth's position, shape, size, and color for enhancing your smile while preventing any gum issues since the treatment requires only a minimal amount of a tooth's enamel layer to be removed. Dental veneers are more durable than dental crowns or fillings, because they can be placed using a very simple and conservative technique which can quickly increase your confidence with a dazzling smile.
Aesthetic Veneers are perfect for enhancing your smile if you have the following conditions:
Teeth that are discolored which may have been a result from a root canal treatment, stained by excessive fluoride usage, or the presence of large resin fillings that discolor the teeth.
Teeth that are worn down.
Teeth that are chipped or broken.
Teeth that are misaligned or irregularly shaped.
Teeth with gaps between them (to close the space between these teeth).
Steps to a beautiful smile using E-max Porcelain Veneers
Step 1 – Evaluation by dental specialist as whether or not you are a good candidate. This would require an examination and x-rays of your teeth to be certain that your teeth are healthy and strong. Also, your dental bite will be evaluated to ensure that a dental veneer can last a long time. The dentist will also discuss with you your desires as the shape and the color of the teeth that you would want to have for your new teeth.
Step 2 - Impression of your teeth for preparation of a diagnostic wax up or for fabrication of temporaries
Step 3 - Clinical Preparation of your teeth- This step includes use of anesthetic when preparation of your teeth is required, the actual preparation of your teeth, followed by an impression of your teeth. Depending on your clinical situation the impression can be done digitally or with the use of traditional dental materials.
Step 4 - Provisionalization- When your preparation is complete, your dentist will fabricate a temporary or a provisional veneer for you while your new porcelain teeth are being made in our dental laboratory.
Step 5 - Final Insertion Appointment- At this appointment your dentist will prepare each tooth for final check and permanent bonding. At the conclusion, your dental bite is checked and any interferences that may exist with your opposing teeth is removed.
သွားကြွေလွှာကပ်ခြင်း (esthetic veneer) Ceramic ( Mark ² ) - သုံးသိန်းခွဲ (3.5 lakh), Ceramic ( Enamic) - လေးသိန်းခွဲ (4.5 lakh), တိုက်ရိုက်သွားကို လေဆာဆေးဖြင့် ကြွေကပ်ခြင်း (Composite veneer) - တစ်သိန်းနှစ်သောင်း မှ တစ်သိန်းခွဲ ( 1.2 lakh - 1.5 lakh)